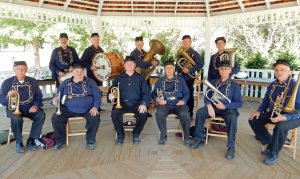 The 2019 Old Bethpage Village Brass Band will start it's season In May. More information will follow but here are the performance dates. May 25,26; June 15; July 4; August 24,25; The Long Island Fair on September 21,22,27,28,29. Plus Candle light performances on December 20,21,22,27,28,29.
Come join us and enjoy the Village too!
Performances at the Old Bethpage Village Restoration 1303 Round Swamp Road, Old Bethpage, NY 11804 (516) 572-8400 nassaucountyny.gov/2850/Old-Bethpage-Village-Restoration.
We hope you can join us at the Village. We have all 1800's era instruments and costumes.
The Band is also available for events throughout the metropolitan area. For information call Ed Albinski, director 631 334-5589 or email: [email protected]